Play Online Roulette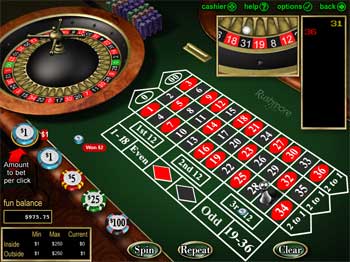 The history of online roulette is pretty short with the start of online casinos on the internet in the mid 1990's. It has grown to become one of the most popular forms of online casino entertainment available at any online casino.
Though you might think that roulette is a complicated game with the layout on the table, the truth is that online casino roulette is a leisure game as all you need to know is how to bet. The game is fast paced unlike the land based casino roulette games. It is definitely faster because more number of rounds can be played in a much shorter time with you being the only player and with no distractions around you.
Always remember that roulette is not only a game of luck with the aim of predicting which number the ball will land on, but it involves a good roulette strategy as well. It is possible to make a number of strategic bets relating to a particular number and set of numbers or on colors, odds and evens to increase your chances of winning.
The different types of inside bets in roulette are:
Straight bet - This is where bets are made on a single number.
Split bet - This is a bet made on 2 adjoining numbers and chips are placed in between these numbers.
Street bet - This is a bet made on 3 numbers on a single horizontal line. 
Corner bet - This is a bet placed on 4 chosen numbers in a square layout.
Sixline bet - This is a bet raised on 2 adjoining streets or rows.
Trio bet - This is a bet placed at the intersection of 0, 1and 2 or 0, 2 and 3.
The different types of outside bets are:
Even money bet - This is a bet placed on 18 numbers choosing the black, red, low, high, even or odd numbers market on the wheel.
Group bet - This is a bet made on the 1st, 2nd or 3rd set of 12 numbers. i.e. (1-12), (13-24) or (25-36)
Column bet - This is a bet made on all 12 numbers on any of the vertical lines
The first thing you need to know about a roulette strategy, is that it is based on odds and the outcome of the ball landing a particular numbered slot. The variations of this game are universally played. The variants of roulette are the European, French and American roulette games. The American roulette game has an extra slot, the double zero, so be aware not to play roulette with the extra slot as your odds are not as good.
The main strategy in the roulette game is that the more numbers you wager on, the greater is your chances of winning. Look for a variation of roulette game that has a lower house edge; which is the European Roulette. If you can, then avoid wagering on the zero or double zero in a roulette game. Even though outside bets have a lower payout, it is the one that gives you a higher chance of winning.